Bridgit Mendler



Full Name

Bridgit Claire Mendler

Born

December 18, 1992
Washington, D.C., US

Genres

Pop rock

Occupations

Actress, musician, songwriter

Instruments

Vocals, guitar, and piano

Plays
Bridgit Claire Mendler (born December 18, 1992) is an American actress, musician and songwriter. She is best know as Teddy on Good Luck Charlie, Juliet on Wizards of Waverly Place, and Olivia in Lemonade Mouth. She guested starred on JONAS and General Hospital. She was also in four other movies.
The image gallery for Bridgit Mendler may be viewed here.
Early Life
Bridgit was born on December 18th, 1992 in Washington, DC. When she was eight she and her family moved to Mill Valley, CA near San Franciso. She loved acting and was in many plays. She also had a little brother, named Nick.
Career
She landed a San Francisco agent when she was 11 years old. When she was 13 her agent got her a role on the hit soap opera General Hospital.
In 2008 she played Kristen Gregory in the film The Clique. In 2009 she guest starred on the Jonas Brothers TV Show called JONAS. She played Penny, Nick Jonas's love. That same year, she co-starred with Lindsay Lohan, in the film Labor Pains.
In 2009 she got the role as Juliet Van Heusen on Wizards of Waverly Place. She played the on-screen girlfriend of David Henrie. When that ended she starred in two movies.
On April 4th 2010, Bridgit got her own hit Disney Channel show Good Luck Charlie where she played Teddy Ducan. She was the main character. One of her co-stars was Jason Dolley who has been working with Disney on "Cory In Th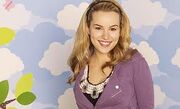 e House" before Good Luck Charlie like Bridgit did.
In 2010 into 2011 Bridgit started a singing too. She sung the theme song for Good Luck Charlie "Hang in There Baby", "When She Loved Me", and "This Is My Paradise". She has a upcoming album with Hollywood Records coming out in 2012.
In April 2011 she now had her own hit movie Lemonade Mouth where she played Olivia White. She sung a lot of songs including Somebody. The movie was a hit movie for Disney Channel.
You can follow her on her official Twitter account: @bmendler707700