All the songs in the movie (
Lemonade Mouth
) and on the Lemonade Mouth (Soundtrack).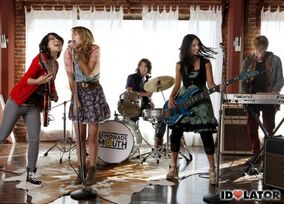 Music From the Book
See Also
You can purchase the movie soundtrack on iTunes for $9.00, or buy the individual songs for $0.99 (Exception: "Somebody" is $1.29)!
Also, you pre-order the movie on iTunes for $14.99!
Watch Lemonade Mouth on On Demand, and soon Netflix!
Ad blocker interference detected!
Wikia is a free-to-use site that makes money from advertising. We have a modified experience for viewers using ad blockers

Wikia is not accessible if you've made further modifications. Remove the custom ad blocker rule(s) and the page will load as expected.