Ray Beech



Hair color

Blond

Eye color

Light Blue

Birthday:

November 6, 1995

School

Friends

Scott Pickett and lots of girls

Abilities

Can sing and rap

Band Position

Head rapper/Singer

Band

Portrayed By
About Ray Beech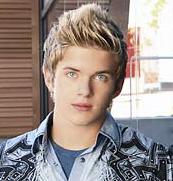 Ray Beech is the lead singer and rapper of Mudslide Crush. He hates Lemonade Mouth and will do anything to stop it. He is a shallow, conceited soccer jock, that all of the girls love.
Quotes
"You can't cancel the Crush!"
"No, we can't talk it out."
"Hey, nice costumes! Oh you're not wearing any?"
Relationships
Scott and Ray were best friends, and have similar personalities. They were originally were in the same band (Mudslide Crush), but then Scott joined Lemonade Mouth and their friendship was ruined.
Ray hates all of the members of Lemonade Mouth, because they supposedly "stole" his spotlight. He bullies them and tries everything he can to get them shut down, and mostly gets away with it. In the end he fails to get Lemonade Mouth shut down and has a ruined friendship with Scott because he joined the opposing band.
Ray hates Stella and Lemonade Mouth, and the hatred between Stella and him is mutual. When Ray was somewhat bullying Olivia, Stella spits Mel's Lemonade in his face. Ray calls her "Lemonade Mouth" which then became their band's name.
Ad blocker interference detected!
Wikia is a free-to-use site that makes money from advertising. We have a modified experience for viewers using ad blockers

Wikia is not accessible if you've made further modifications. Remove the custom ad blocker rule(s) and the page will load as expected.