Twitter, again! xD
I don't know her, but I'll congratulate her anyways.
CONGRATULATIONS TO BRIDGIT MENDLER FOR GRADUATING HIGH SCHOOL
Woo hoo! Unfortunately, I'm a little late xD She tweeted on the June 20 lol.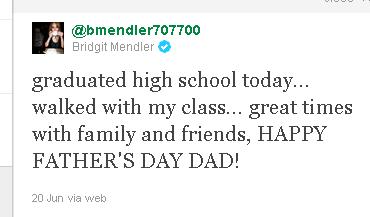 InSpeck -Naomi Scott Rules!-

and so does Lemonade Mouth!! 14:45, June 25, 2011 (UTC)
Ad blocker interference detected!
Wikia is a free-to-use site that makes money from advertising. We have a modified experience for viewers using ad blockers

Wikia is not accessible if you've made further modifications. Remove the custom ad blocker rule(s) and the page will load as expected.